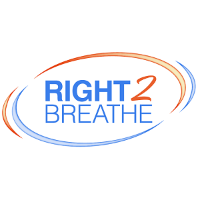 Flemington, NJ – Chronic Obstructive Pulmonary Disease (COPD) is our nation's 3rd leading cause of death surpassed only by cancer and heart disease; killing more than 120,000 Americans each year – that's one death every 4 minutes.  Add to that staggering statistic that more than 12 million people are diagnosed with COPD there are an estimated additional 12 million people who likely have COPD and don't even know it yet.
Finding creative and cost-effective ways of targeting, reaching, screening and educating people on the risks associated with COPD has been a problem plaguing our nation for years. However, a new non-profit organization based in Flemington, NJ has created a The Right2Breathe Project, targeted directly to a passionate community of over 30 million American's who based on their vocations, personal life choices or surrounding environments are at a higher risk to develop COPD – the automotive and motorsports industry.
Right2Breathe® Inc. is a 501-(c) (3) non-profit organization created by two passionate Drag Racers; Joe Morrison and Tim Charlet who have a personal mission to improve the quality of life for those that live with respiratory difficulty, illness or disease. Their mission is to provide education, awareness, and inspiration of breathing-related conditions to the global motorsports and automotive community – who are at higher risk to be diagnosed or struggle with breathing related illness.
The launch of The Right2Breathe Project – a documentary film directed and produced by award-winning production studio ThinkBreatheLive is the first step in introducing their campaign to the healthcare industries that typically drive screening, education and awareness campaigns for COPD.
"Our goal with The Right2Breathe Project is to showcase our story, our mission and the solutions we offer to target, reach, screen and educate millions of people who are at high risk to develop COPD," stated Joe Morrison, CEO, and co-founder of Right2Breathe®. "The guys at ThinkBreatheLive; Kenny Pedini, Peter Blackman, and Michael Schwartz did an amazing job articulating our vision through a video production that represents the quality our foundation focuses on daily. Both Tim and I are humbled by the professionalism this team displayed during the entire video production process and thank them for their incredible work."
The Right2Breathe Project focuses on telling the story of Joe Morrison and his father Chuck, a retired plumber who currently lives with COPD – who over the past 40 years have used their passion for Drag Racing to develop an incredibly strong bond. As Chuck's diagnosis of COPD became apparent and his symptoms continued to grow, Joe felt it was important to ensure that everybody in the global motorsports and automotive communities is aware of COPD, the risks that lead to this growing disease and provide on-site screening at the motorsports and automotive events these fans attend.
The Right2Breathe® Project video also includes professional expertise from Vernon R. Pertelle, RRT, and Nina Radcliff, M.D. Serving as the President and CEO of StratiHealth and Pulmonary Horizons, Mr. Pertelle has intimate knowledge and experience coordinating the care of patients diagnosed with COPD throughout the continuum of care and has conducted presentations nationally and internationally on topics related to respiratory care. Mr. Pertelle is a registered respiratory therapist, licensed in the state of California; licensed vocational nurse in the state of California; has a B.S. in Health Care Management, Master of Business Administration, Master of Science, Strategy and Finance. He has a passion to develop and implement practical solutions to improve the diagnosis of patients and subsequent treatment and management of COPD.
With an outstanding reputation as a medical physician and dedicated communicator to her patients as well as audiences nationwide, Nina Radcliff, M.D. is devoted to helping people live healthier lives and gain wise understandings about health and wellness concerns facing our nation, today. She is becoming one of America's leading doctor-reporters contributing to weekly columns and broadcast segments – committed to providing clear, concise and insightful understandings on breaking medical news; developments in medicine; personal health and wellness; as well as the healthcare industry, at large.
"The initial success of any project depends primarily on the public support of those who are experts in their respective fields," stated Tim Charlet, Chief Marketing Officer and co-founder of Right2Breathe®. "For several years, Mr. Pertelle and Dr. Radcliff have established a solid reputation in the respiratory and entire healthcare industry. Their passion for focusing directly on the patient and caregiving community through grass-roots target marketing, screening and education is a perfect fit with our core mission. We thank them for their support and look forward to continuing to develop synergy as we launch Right2Breathe®."
To learn more about Right2Breathe®™ and to view The Right2Breathe® Project video directed and produced by ThinkBreatheLive; please visit their website – http://www.Right2Breathe.org.
About Right2Breathe®
It is the Mission of Right2Breathe® to provide education, awareness, and inspiration of breathing-related conditions to the global motorsports and automotive community – who are at higher risk to be diagnosed or struggle with breathing related illness. We can achieve our mission by infusing our passion for the automotive industry with a strong desire to improve the ability to breathe and increase the quality of life for all. Right2Breathe® targets a passionate community of over 100 million individuals worldwide – most of who work in industries that are at higher risk of developing breathing-related conditions.
About ThinkBreatheLive
Having produced award-winning video productions for Beyoncé, Jeep, Roger Waters and The Heart Institute just to name a few, ThinkBreatheLive is a leader in professional brand video development services. TBL began as Breathe Editing in the fall of 2001 and was primarily an editing boutique. Opportunities to branch out into all phases of content development soon forced this "boutique" to grow.  TBL's services range from TV commercials to web video content to concert tour visuals.  You can learn more about TBL by visiting their website – http://www.ThinkBreatheLive.com